How much does a professional voice over cost?
So, you are considering booking a professional voice actor for a project. Perhaps one of the first questions that will come to mind is 'how much will a voice actor charge me?'. The answer can be pretty complex and is defined by a number of factors which I shall try to explain.
If you are new to working with professional voice actors then I'd urge you to check out my comprehensive video guide: The Step by Step Guide to Working with a Voiceover Artist especially the section on NEGOTIATING.
Voiceover only or voice talent with a professional production studio?
Generally I'm booked for the latter of these two as I have run a full voiceover production studio for many years. It's not your typical 'duvet-over-the-head' home studio. Far from it. When a client books me to voice a project they can rest assured that they are getting the same quality as any top media studio.
Every single recording is delivered with finesse ready to fit seamlessly into the project. I don't charge extra for this. It is a standard and major bonus of working with me. I am a voiceover artist with 25 years in the industry and a fully qualified audio engineer using the finest equipment in a truly dedicated facility connecting with clients worldwide.
Get a quote and custom demo today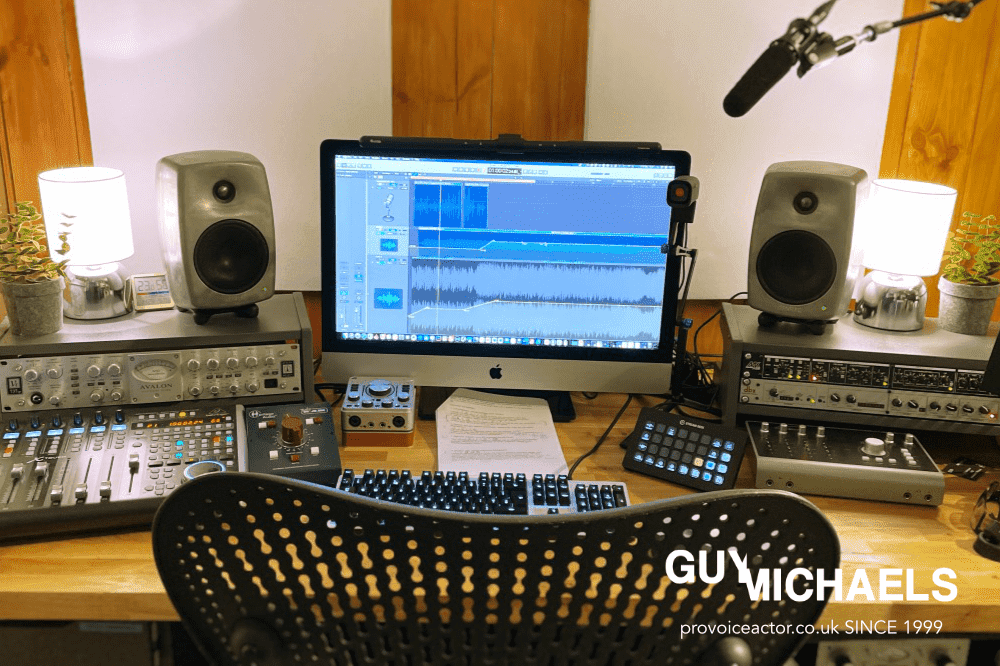 How much does a professional voice over cost?
Well you can book a cheap voiceover or a seemingly expensive one. Like any service delivered by a freelancer, the service quality can vary wildly and so can the cost. Once you have found the right voice talent for your project, make sure to bear in mind at the point of negotiating over costs, the true value of what a professional voice over could do for your business.
Voiceover rates vary wildly as there are no real industry standards
I'm certain that statement would be vehemently argued against by some, but it's true. Although there are accepted usage fees, buyout rate calculations and advised rough pricing structures, ultimately voice over rates are down to the individual voice over artist.
Although, sometimes a quote may seem expensive, and you might be tempted to record in-house or use a cheap voiceover freelancing site, this could be a false economy.
I'm trusted by tiny brands all the way up to massive ones like Sony, PayPal, Microsoft, IBM and many more because they all know that working with me is easy, professional and worth every penny.
None of my clients ever need to pay out for extras like studio time, audio engineers or editing because these are all included in my service for most jobs. You'll get a truly broadcast standard end-product that both you and your end-listener will be delighted with.
The cost of a professional voice over depends on various factors, including the experience and studio facility of the voice actor, the length/complexity of the script, the type of industry and intended usage, potential studio fees, included time and revisions and whether the are add-ons like production elements/custom music or mixing needed.
Is there a voice over rate guide?
Many of us voiceovers use rate guides to help us with more complex projects and you can also access this commonly referenced guide here: Voiceover Rates
Having quoted for and recorded across many genres and for thousands of projects, I am pretty confident that my quote to you will make sense and represent great value. Sometimes I reference the guide above but take into account the needs and budget of the client at all times. Get a quote and custom demo today
This article would be way too big and boring to cover every genre or market of voice over work so I'll just cover the basics of quoting for voiceover costs.
The 2 ingredients of a quote for voiceover jobs
Basic Session Fee (or basic studio fee)
+
Usage fees
A Basic Session Fee (BSF)
In either the UK or the US this is widely understood as the time spent, per hour, to record the script. In general this is the basic starting rate of any voiceover artist. It ranges between £200 – £400. A BSF for a beginner or inexperienced voice over is likely to be lower but could be considered a false economy.
A highly experienced voice actor may charge more and rightly so as you are paying for their experience which will help to make sure that the project runs smoothly and that the recording ultimately serves the project/client and intended audience.
Usage Fees cover the intended usage of the recorded script.
A professional voice artist will be able to explain this but it is generally worked out as a percentage or multiplication of the BSF.
Usage is dictated by the commercial value of the intended audience and the reach.
So whilst a small social media campaign with a script of just 50 words may total £500, a similar campaign reaching Radio/TV/Social and more channels for 6 months may come in at £4000.
These are not exact figures of course but it gives you the idea that rates can be very varied depending upon the factors above and below.
Quoting for voice over jobs or getting quotes from VOs
Here are some tips for voice actors who are quoting for voiceover jobs. If you are in the process of booking a voiceover artist then knowing what kind of questions may come up at the quoting stage could prove useful!
Word count, recording time, script changes…it all adds up!
SCRIPT LENGTH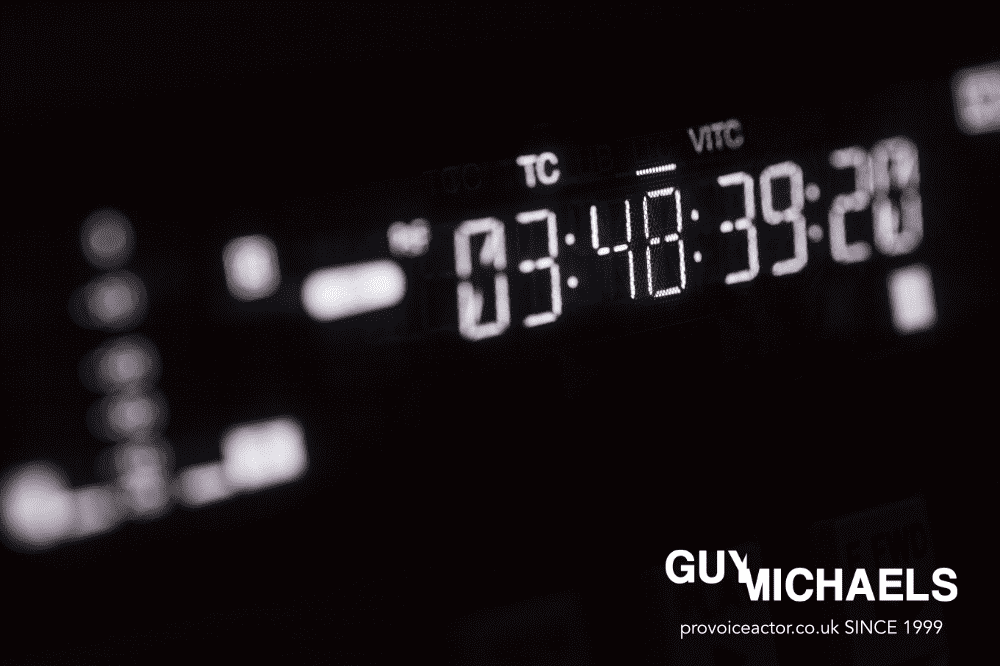 How long is the script in terms of time and words? This is a major determining factor in terms of cost and also whether or not a particular voice over talent even has the capacity to take the project on. Whilst one voice artist might be up for any project, no matter the length, complexity or type, some voice actors won't take on massive narration work like audiobooks.
It's worth noting that on average we speak at around 125 – 150 words a minute. A typical page contains around 400 words. So that's approximately 4 minutes for a page of text.
Just remember that a voiceover artist who is self-recording will generally spend time in preparation for the recording, work on a number of takes and then cover the required editing. This time all adds up so don't expect a professional voice talent to simply hit record and then bill you for 4 minutes of their time!
Here are some tips on writing useful scripts for voiceover artists
If you have never undertaken voiceover work yourself, you'd probably be surprised how long it can take to complete a script covering a complex subject to a professional standard.
As the client, be prepared to share how many words there are in the final script to be recorded.
In fact, share as much information as possible about the project with the chosen voice so they can be as accurate as possible with their voiceover rates.
Useful tool: Convert Words to Time – Talk Time Calculator When working out 'How much does a professional voice over cost?' you need to be aware of how much time it takes to read your script out loud. The 'out loud' speed will likely be slower than the 'in your head' speed.
PROJECT TYPE
My guiding question for this revolves around whether a project is intended for commercial public consumption or perhaps something that will be just for internal employees etc. Is it a commercial project or is it e-learning? Is it a documentary for worldwide TV or heading to a YouTube channel? Different projects (and as below their intended usage) have different rates.
USAGE (and distribution)
Voice artists must clearly understand how the client intends to use the voiceover. A client must be transparent about how they intend to use the recordings. Unfortunately there are a handful of unscrupulous characters out there who will book voice over talent and then use the recordings in ways that were not agreed at the time that the session was booked.
An example of this is booking voice artists for recordings that are intended for internal use only (or perhaps for a video that will sit on a client's site) and then taking that recording, splitting it up and using it for clear commercial purposes in paid social media advertising.
Every professional voice artist encounters this or similar at some point in their career. This is why both parties must understand and agree to usage fees and criteria.
So is your project for non-broadcast usage, a tv commercial, interactive voice response (telephone menu system), a series of explainer videos or something entirely different?
TIMEFRAME
How quickly does the client need the finished product? The client must be reasonable in terms of expectation and the voice must be honest about their capacity to complete a project to a deadline. In some cases, professional voice talent will charge extra for a rushed delivery.
As mentioned above, make sure you know the word count.
RECORDING SPECIFICS
Ok so this can get complicated, but how much editing does the client expect the voice artist to do? Do they just want a wild track (unedited) or surgical editing to fit the timeline of a video for example. I offer specialist post production options such as sync-to-picture and even music and effects, meaning that I actually potentially save a client time and money.
Although most projects don't require these skills, as the client you need to be clear on what you expect from the voiceover artist and not simply expect them to undertake massive editing jobs without having negotiated the overall voiceover costs.
EXPERIENCE LEVEL
A decorator who bought a paint-roller last week and watched a couple of DIY videos on YouTube will not be charging the same as a highly experienced professional decorator with thousands of projects completed and many satisfied clients. It's exactly the same in voiceover.
These days, especially when voiceovers are working from a home-studio (which ranges massively in terms of quality from voice to voice) you absolutely get what you pay for. If a client is after the cheapest option, then my advice to experienced voices is to let them move on and find a cheap voice over.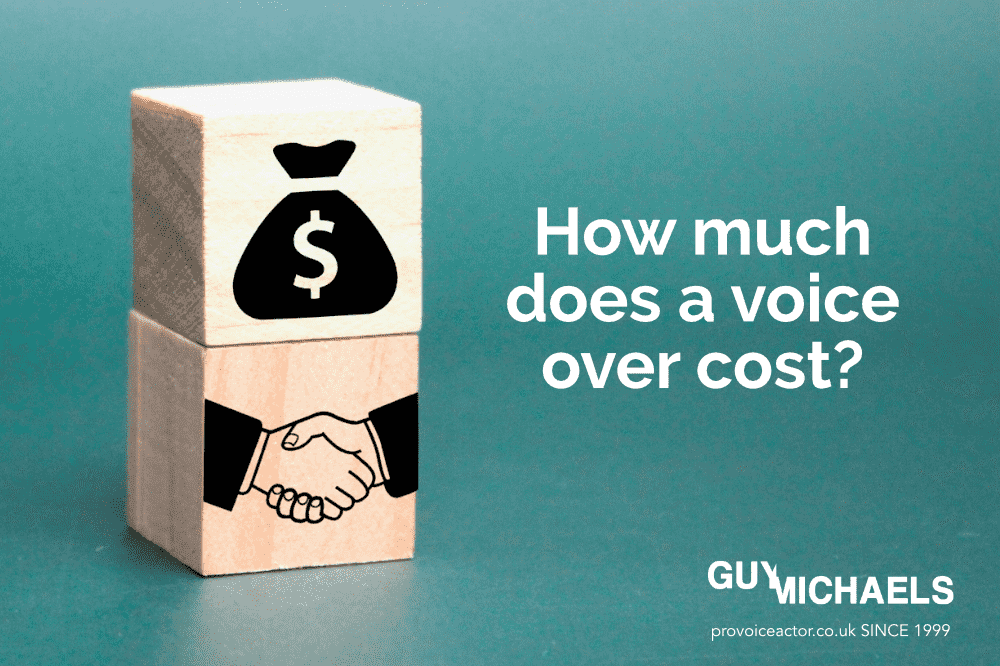 Union rates for voice over services
Here in the UK we have Equity, which if you are a member, acts as the union for all kinds of performers including voice actors. They have useful information on rates of p[ay for voice actors in their resource Equity Audio Guide
In North America, there are two main unions for voice actors. These are are SAG-AFTRA (Screen Actors Guild-American Federation of Television and Radio Artists) and ACTRA (Alliance of Canadian Cinema, Television and Radio Artists). If you are a member then they will be able to guide you on typical voice acting rates.
Audiobook Narration Rates
Audiobook narration is paid somewhat differently than other record voice work undertaken by voice actors. Audiobook narrators need to have a clear understanding of the rates to charge for services.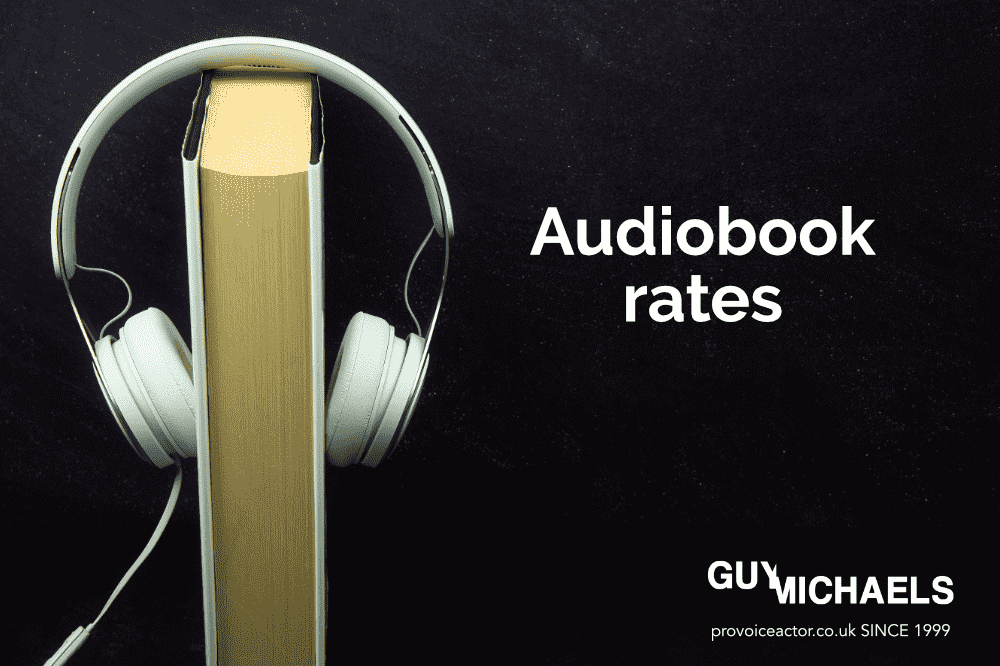 I don't undertake these types of project but if you are a voice actor who has never recorded an audiobook before, make sure you know the word count and just how long it will take you to complete. They can be mammoth projects!
Per Finished Hour (PFH): The most common way of charging for audiobook narration work. The average rate for PFH ranges from $150 to $400. Some highly experienced narrators charging upwards of $500 or more for finished audio.
Royalty Share: Some narrators are willing to work for a share of the royalties earned from audiobook sales. This is the model you'll often see on ACX Audible's Narration Platform.
Hybrid Model: This is a combination of PFH plusroyalty share. Some narrators may charge a lower PFH rate in exchange for a higher royalty share percentage.
It's important to note that rates can vary depending on factors such as the length and complexity of the book, the level of experience of the narrator, and the budget of the client. It's also important to negotiate rates that are fair and reasonable for both parties.
By keeping these rates in mind, audiobook narrators can ensure that they're charging appropriately for their services and earning a fair income for their work.
Conclusion
Any clearer on the question 'How much does a professional voice over cost?'
As you can see, the subject of voice over rates can be complex. It's really worth bearing in mind that a decade or so ago, it would be normal to book the voice and then encounter the spiralling additional costs of hiring a recording studio by the hour and the sound engineer. I, like many of my colleagues, offer an all-in-one service and that actually saves you money!
With so many factors determining the final voiceover cost, it's worth speaking with a professional. An experienced VO will be able to guide you through all of this, as will a production company who regular books voice overs but just remember that most voice over artists will work from their own rate card and therefore if you get quotes from different ones, these will vary. Just make sure you know what's included in overall voiceover cost.
How much does a professional voice over cost?
Get a quote from me and a custom demo today
READ MORE:
My experience Voicing a Nature Documentary
I've had the pleasure of recording voiceover and narration for many different types of project but one of my favourites has been the opportunity to narrate a number of nature documentaries.